About Us
Kathleen Taylor, RPh, FACVP
Kathleen Taylor RPh, FACVP graduated from MCPHS University in 1987 with a Bachelors in Pharmacy and a minor in Nuclear Pharmacy. Kathleen is also a Registered Nuclear Pharmacist. She worked as a critical care pharmacist in the ICU at South Shore Hospital for 2 years. From October 1988 till January 2000, Kathleen worked for the Joint Program in Nuclear Medicine at Harvard Medical School as one of two nuclear pharmacists servicing all the Longwood Medical Area Hospitals with their radioisotopes. After attending a regional conference in Boston focusing on veterinary pharmacy, Kathleen studied with the American College of Veterinary Pharmacists (ACVP) and became a Fellow of ACVP in 2001. In September of 2001, Kathleen opened up Animal Pharm, LLC in Scituate. Since then, she has been certified in Advanced Feline and Canine Therapeutics and is also certified in Avian and Exotic Therapeutics through ACVP. She is the 2005 winner of The Entrepreneurial Spirit Award, given by the Scituate Chamber of Commerce. In 2009, she was awarded the ACVP Earl W. "Bill" Bradley Award for Outstanding Service to Veterinary Pharmacy. Kathleen loves animals! She is currently owned by six cats and one dog. She is an avid golfer and boater and loves to paint when the weather doesn't allow for the former.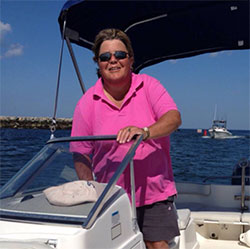 Carolyn Arnish, PharmD, RPh
Carolyn grew up in Needham, MA and graduated from MCPHS University in 2014 with her Doctor of Pharmacy degree. After graduation, she migrated south to complete a 1-year residency in Clinical Veterinary Pharmacy at North Carolina State University under the direction of Gigi Davidson, BSPh, DICVP. Carolyn started working at Animal Pharm in August 2015 and she is thrilled be a part of this incredible team. Carolyn has three Shih-Tzu siblings (Teddy, Lexie, and Leo) and has one Standard-Poodle son (Tupper). She resides in Scituate and enjoys long walks with Tupper, stand-up-paddle-boarding on the harbor, camping, and trying new restaurants. Her interests within veterinary pharmacy include: veterinary patient medication compliance, veterinary pharmacy student education, and pharmacoeconomics.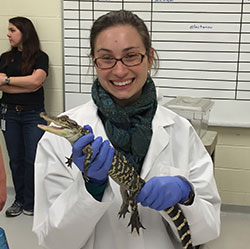 Donna McDonough, RPh
Donna grew up in the Boston suburbs and graduated with a pre-med degree from Stonehill College in 1987. She then went on to obtain her BS in Pharmacy from MCPHS University in 1990. After graduation, she worked at Walgreen's pharmacy. After having 2 daughters, she continued working part time at Walgreen's for 27 years. She began working as a part time pharmacist at Animal Pharm in 2011. She received her training certification from ACVP in 2013. Donna lives with her husband Mark and 2 daughters, Ali (18) and Sophie (15) in Marshfield. Rounding out the family is a 10 yo lab mix named Bailey and 140 pounds of Newfie, Gracie, aged 4!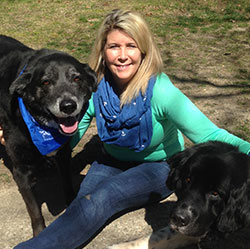 Nancy Edmondson, Office Manager
Nancy went to school to become a surgical technician and practiced for a few years at Cape Cod Hospital. She then transitioned to working as a veterinary technician for about 13 years and then in 2003 she met Kathleen Taylor as a client of Animal Pharm. She started work at Animal Pharm in 2004 and has been here since! Nancy has a Beagle named Bailey and a Boston Terrier named Franks. Nancy has had a Merchant Marine license for fifteen years and spends her weekends working on Duxbury Bay May through October.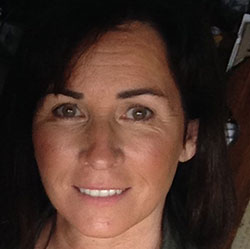 Sandra Mitchell, Registered Pharmacy Technician
Sandy was born and raised in the small south shore town of Rockland, MA. She graduated from Bridgewater State University in 2009 with a Bachelor of Science degree in Business Marketing. She has always had a passion for animals, so when she heard of the job opportunity available at Animal Pharm, she knew it could become an interesting and long term career! She joined the Animal Pharm team in April of 2009 and has great experience and techniques through Kathleen's and Carolyn's ACVP training. With Animal Pharm's growth and expansion, Sandy's marketing degree will also be put to good use! Her love of sports (especially football and Tom Brady!), animals, and family has molded her into the hard worker she is today!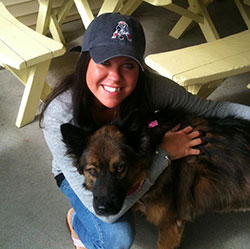 Keri Flynn, Registered Pharmacy Technician
Keri grew up in Rockland MA and graduated from Bentley University in 2004 with a BS in Marketing. Keri was a member of the Women's Basketball team at Bentley University. After college Keri pursued her dream of playing professional basketball in Europe. Keri spent two years in Europe playing in Amsterdam, Netherlands and in Brescia, Italy. After winning an international championship, Keri returned home to the United States to pursue her passion for animals. She became a part of the Animal Pharm team in December 2008. She has great experience and techniques through Kathleen's and Carolyn's ACVP training. Keri lives with two rescue dogs: Tyson is a Shar Pei mix from Worcester MA and Moxie is a Puggle from Arkansas. Keri loves to cook and enjoys going to the movies along with traveling.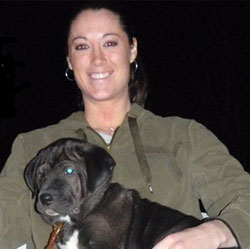 Brian Taylor, Registered Pharmacy Technician
Brian grew up in Pembroke MA and graduated from Ithaca College in 2007 with a BS in Communication. After graduation, he moved to Los Angeles where he worked as an editor on The Big C (Showtime), Happy Endings and Greek until early 2014. When Brian moved back to MA, he began working with his Aunt, Kathleen Taylor, at Animal Pharm. Brian loves animals and recently adopted Gypsy, a tiger/tabby cat from Scituate Animal Shelter. Gypsy was known as a trouble-maker at the shelter, but has since settled in happily in her new home. Brian is a die hard Red Sox fan and lives for baseball season where you'll find him at Fenway Park any chance he gets. Brian brings great ideas to Animal Pharm with his background in the film industry!